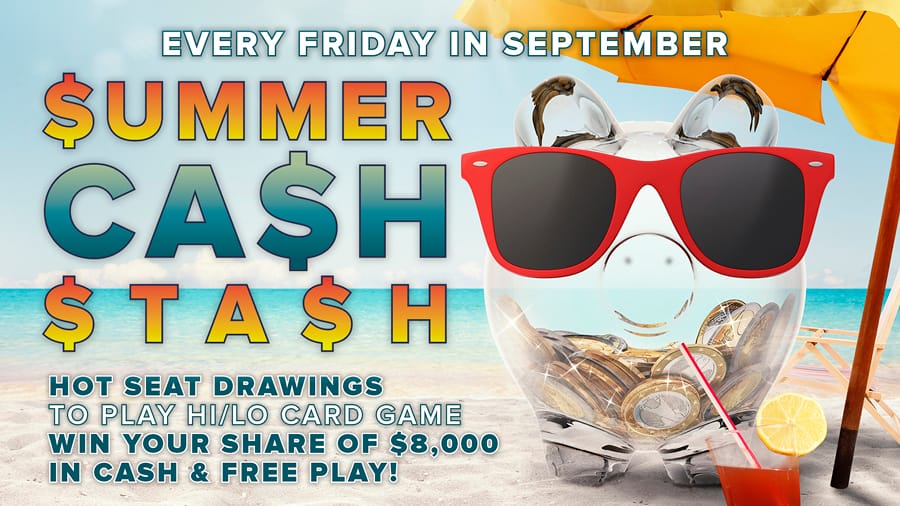 28 Aug

Summer Cash Stash

Join us every Friday in September for our "Summer Cash Stash". Hot seat drawings begin at 5:00 PM and are held every 30 minutes up to 10:30 PM! Hot Seat Winners will play our Summer Cash Stash Hi/Lo Card game. You could win up to $100 CASH!

Contestants will be chosen by hot seat drawing. The deck will be shuffled and 5 cards will be placed face down on the board.

The first card will be turned over by the Players Club host and the contestant will receive $25 in free play.

The contestant must guess if the next card is higher or lower. The Players Club host will turn over the card and if the contestant is correct they will receive $40 in free play, if they are wrong the game ends with $25 free play.

If they are correct and wish to continue on they will continue to guess if the card is higher or lower receiving progressively more free play as they move up. If the next card turned over is the same as the previous card it will be considered higher. (For example: if a Jack is showing and the contestant says "Higher" and the next card turned over is a Jack, they are correct and will move on.) Aces are High

3rd card is worth $50 free play; 4th card is worth $75 CASH and the 5th and final card is worth $100.00 CASH.

At any point if they guess incorrectly they receive $25.00 in Free Play and the game is over.
Hot seat drawings will begin at 5:00 PM and be held every 30 minutes up to 10:30 PM.
Players must earn 5 points the day of the drawings to be eligible for any of the drawings.
Players must be actively gaming to qualify for the hot seat drawings.
Must be present to win.
Must be a member, in good standing, of the Players Club to be eligible for the drawings.
Only one winner per evening. Anyone drawn a second time shall have their name announced as a previous winner.
Friday night Plinko will be held in conjunction with this promotion. Winning a Plinko hot does not preclude a player from playing the Summer Cash Stash and vice versa.