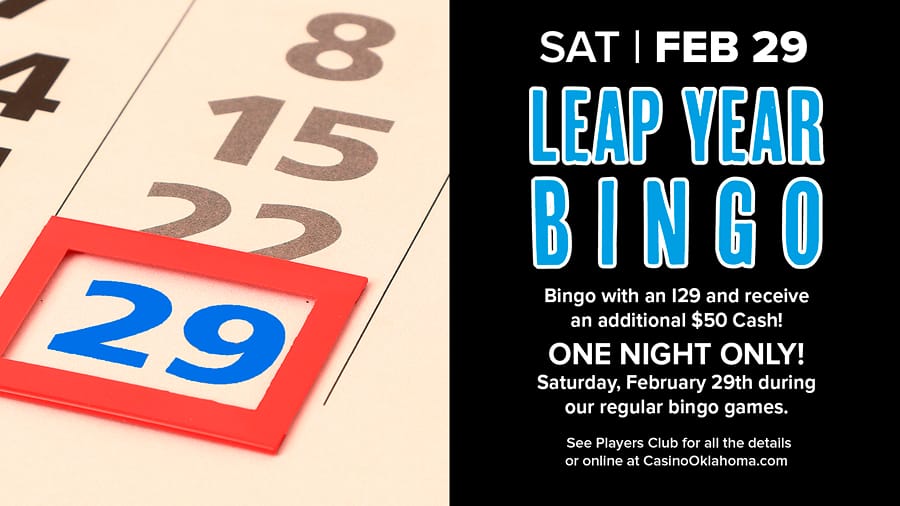 31 Jan

Leap Year Bingo – Saturday, February 29th!

Join us on Saturday, February 29th for "Leap Year Bingo"! Bingo with the I29 and you'll win an extra $50.00 CASH!

The promotion will be held on Saturday February 29th during our normal bingo night. If you Bingo with the I-29 during any of the games you will win an additional $50 CASH.
Our standard Bingo rules will be modified for this ONE NIGHT ONLY! Copy of modified Bingo rules available at the Players Club.
All players must earn the required points to receive a Bingo Pack
Bingo will be called as usual every 30 minutes starting from 6pm to 10pm.
One Bingo PACK (9 cards) will be issued to qualified players. The back of each card in the pack will be numbered 1 through 9. These numbers correspond to the game that will be called. (6pm – card 1; 6:30pm – card 2; 7pm – card 3, etc.)
Only one pack per person for the entire night.
The winner MUST have the correct corresponding card to qualify for the win.
If the winning Bingo game is won using the I-29 the winner will receive an additional $50.00 CASH. If more than one winner each winner will receive $25 CASH.
All other Bingo rules will apply for this one evening.
Copies of the Bingo Rules & games will be available at the Players Club.