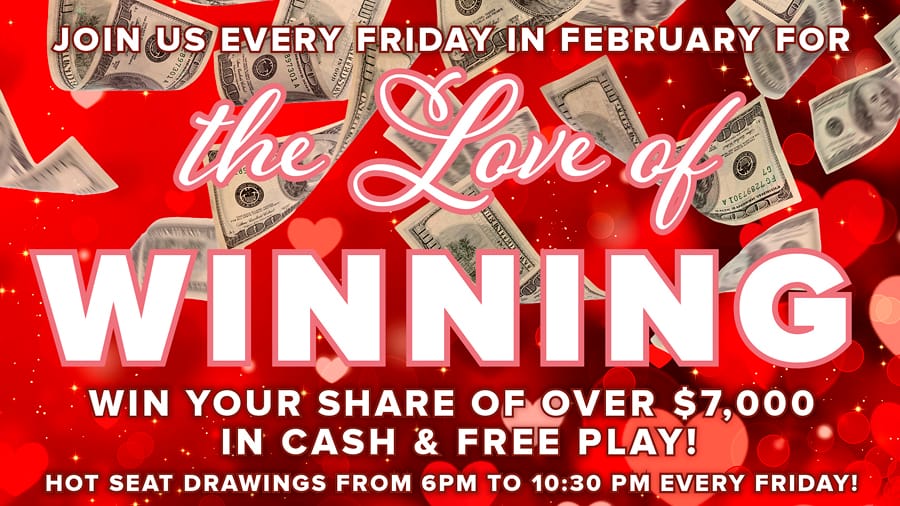 31 Jan

For the Love of Winning!

Join us every Friday in February to win your share of over $7,000 in CASH and Free Play and Dinner in the Red Dirt Roadhouse!

The promotion will be held every Friday in February (7th, 14th, 21st & 28th).  Hot seat drawings will begin at 6:00 pm until 10:30 pm with 2 winners drawn every 30 minutes. Each winner will select a valentine that will contain a number from 1 through 20. They will approach the punch board and open the corresponding number to receive their winnings. Compartments will contain the following:
5 will contain $25.00 Free Play
5 will contain $50.00 Free Play
6 will contain Dinner for 2 in the Red Dirt Roadhouse (valid until 2/28/19)
2 will contain $250.00 Cash
2 will contain $500.00 Cash
Players must earn 5 points the day of the drawings to be eligible for any of the drawings.
Players must be actively gaming to qualify for the hot seat drawings.
Must be present to win.
Must be a member, in good standing, of the Players Club to be eligible for the drawings.
Only one winner per evening. Anyone drawn a second time will be passed and a new name drawn.