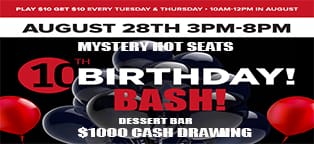 01 Aug

10TH BIRTHDAY BASH!!!`

COME CELEBRATE WITH US ON

SUNDAY, AUGUST 28TH 3PM-8PM

WE WILL HAVE A FREE DESSERT BAR AND

OF COURSE ALWAYS FREE ICE CREAM,

MYSTERY HOT SEATS FROM 3PM-8PM AND

A $1000 CASH DRAWING AT 8PM

EVERY TUESDAY AND THURSDAY FROM 10AM-12PM (NOON)

PLAY $10 AND GET $10

SEE PLAYERS CLUB OR MAILER FOR MORE DETAILS!!!